Ranger RCI-2998 4.3″ TFT LCD Panel
Coming soon? – BUT WHEN? Nothing on the Ranger USA website yet.
This radio seems to be an upgraded or enhanced
RCI Ranger RHF-618 10 12 Meter Dual Band Radio [able to be modded to 11 meters also]
Seems retrofitted to the common Rack Mount Style Case from Ranger.
This certainly gives the radio more visual presence and seems to offer more rear heatsink area for the upgraded RF output expected. Possibly also allows for a decent power supply to fitted inside to ensure plenty of amps in reserve as well. Unsure if a switched mode supply will still be used but it must be getting tight for space in there so probably will be.
The top mounted speaker in the RHF-618 was limited in response so the new front mount should allow a decent size speaker with good audio quality.
Projected Specifications:-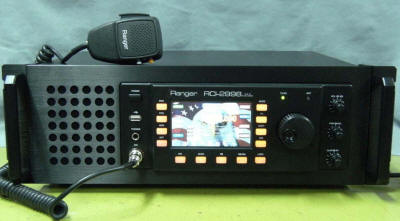 4.3″ TFT LCD Panel
Soft TOUCH Panel buttons around the Touch Screen display
IT IS A TOUCH SCREEN also duplicating buttons
RCI-2950DX reliable electrical specs
Self Bright and clear display
Built in clock and calendar date function
Auto switch of priority for communication
Auto CW Key
USB to Load background images and Firmware Upgrade
An improved receiver:   designed for increased sensitivity and image rejections.
A double FET balanced mixer:   for improved receiver inter-modulation rejection.
New power supply protection:   and temperature compensation for improved stability and reliability over wide temperature ranges.
Surface mount components:   for increased resistance to shock and vibration.
Improved display lighting:   for easy reading in a wide range of light conditions.
Variable Power Output:   from 25 watts to 2 watts – great for PSK-31 operation.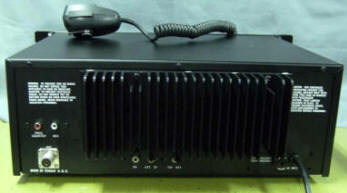 More features:
10 & 12 Meter Bands
Large Display
Improved Receiver Design
Variable Output Power Control
Active Frequency Scanner
Receiver Clarifier (±0.5kHz)
99 Programmable Frequencies
Noise Blanker/ANL Circuitry
Programmable Repeater Offset
Public Address Feature
CBRadiomagazine.com Youtube 
RCI Ranger RHF-618 
Review below.
Expected Specifications
 General

RHF-618

 Frequency Range

10 Mtr: 28.000 – 29.6999 MHz
12 Mtr: 24.8900 – 24.9900 MHz

 Tuning Steps

1 MHz, 100 KHz, 10 KHz, 1 KHz, 100 Hz

 Emission

USB, LSB, CW, AM, FM

 Frequency Tolerance

0.005%

 Frequency Control

Microprocessor / Phase-Locked-Loop Synthesizer

 Frequency Stability

0.001%

 Operating Temperature Range

-10 ºC to + 50 ºC

 Antenna Impedance

50 W

 Input Voltage

110VAC

 Microphone

400 W Dynamic PTT – 6 Pin

 Size (W x D x H)
 Weight
 Shipping Weight
 Transmitter
 RF Power Output (Factory OEM)


ESTIMATES UNTIL UNIT ARRIVES

CW / AM / FM: variable 10-70 Watts RMS
Peak AM: 130-150 Watts Peak power
SSB: 140 Watts (PEP)

 RF Power Output (Tuned-Up)
ESTIMATES UNTIL UNIT ARRIVES

CW / AM / FM: variable 5-50 Watts RMS
Peak AM: 180 Watts Peak power
SSB: 175 Watts (PEP)

 Modes

USB, LSB, CW, AM, FM, PA

 CW Keying

Semi break-in

 Carrier Suppression

- 50 dB

 Spurious Emission

- 50 dB

 Antenna Connector

UHF Type, 50 W

 Receiver
 Sensitivity

AM / CW: 0.5 µV for 10 db SINAD
FM: 0.25 µV for 12 db SINAD
SSB: 0.15 µV for 10 db SINAD

 Selectivity

- 55db

 Image Rejection Ratio

- 65 db

 Audio Output Power

2.5 Watts @ 10% THD into 8 W
For MORE Information:
http://www.bellscb.com/products/tenmeter/ranger/Ranger_RCI-2998.htm
DONT BOTHER TO COMMENT IF IT IS NOT RADIO RELATED AS IT WILL BE DELETED!!