11 meter Moxon Antenna  suitable for 27MHz CB.
Dimensions can also be used on lower 28MHz Amateur Radio operation band.
The main advantage of Moxon rectangle antenna's are :
Compact and Light Weight
Considerable Directional gain over Isotropic.
Lower noise on Horizonal Polarisation
Easy to construct from tube or wire
Suitable for HF DX operation (mid-low Horizontal radiation angle)
The Moxon antenna has proven popular because of the ease of construction and low cost, but still yields exceptional HF DX results at low mounting in clear space. Obviously like most antenna's the higher it is mounted above the ground and nearby  obstructions, the performance will improve markedly.
Some use Bamboo or squid poles in an X with wire as the elements, while others prefer tube elements from a central boom with wire and a non conductive spacer between the element tips. This method allows the coax feed point to be supported by the boom more conveniently.
Apparently the configuration of the elements folding and interacting combine to present the coax feedpoint with a 50 Ohm load to the transceiver avoiding the requirement for any matching or balun.
Like any antenna construction project, you will need to ensure that the SWR is acceptable in this form prior to transmitting for any length of time at full power to prevent damage to your finals.
The below diagram is a PLAN View, or view from above looking down on the layout of the elements as if they were placed on the ground.
Dimensions
A- 392.09 cm (154 3/8 inch)
B- 58.62 cm (23 1/16 inch)
C- 11.25 cm (4 7/16 inch)
D- 73.4 cm (28 7/8 inch)
E- 143.27 cm (56 7/16)
Construction PLAN view using aluminium tubing on Horizontal main boom and heavy copper wire on sides between front Director and back Reflector tubes with insulator between wires. NOT TO SCALE!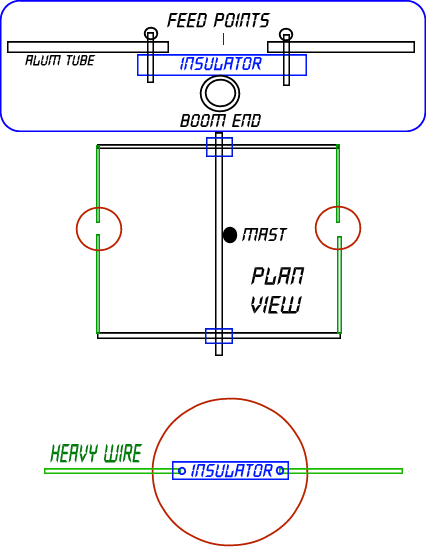 Gain, Radiation Pattern (mounted at approx 30feet)
Gain : Approx 10-11dBi (30 feet above the ground)
Freq range : 27.300 MHz – 28.300 MHz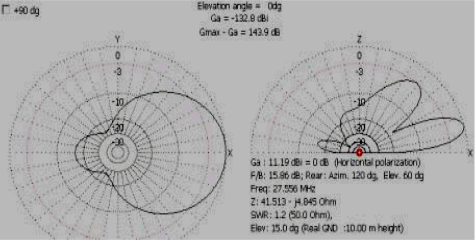 MFJ-1890 10 Meter Moxon Antenna
(Tested on 10 meters & 11 meters/CB Band)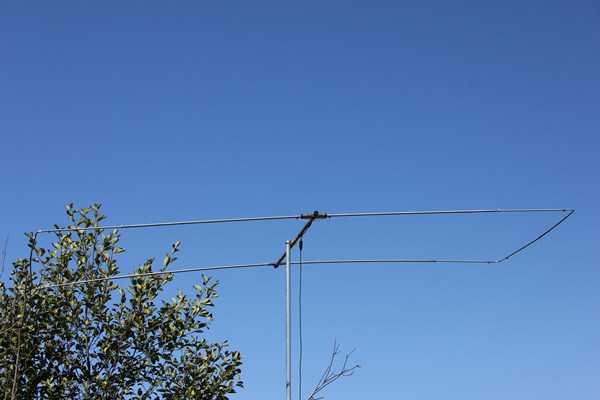 MFJ MOXON Quick Look From CBRADIOMAGAZINE.com
The MFJ-1890 is a lightweight aluminum antenna designed to operate in the 10 meter band and we had hoped that with a little messing around we could get it to tune to the 11 meter cb band.
What is a Moxon antenna? Here is a quote from wikipedia for the definition:
"The Moxon Antenna is a simple two element parasitic array antenna that is popular with Amateur Radio enthusiasts for its simplicity of construction. The design is rectangular, with roughly half the rectangle being the driven element and the other half being the reflector. It can by thought of as a Yagi Antenna with bent elements and without directors."
The antenna is credited to Les Moxon G6XN, and while it is well known by most ham operators, many CB'ers may be unaware of this design. The Moxon offers excellent front to back gain and good rejection as well. It's footprint is probably the biggest positive attribute, as it's only 12 feet in total length (6 feet on either side of the boom) and in a horizontal profile it's a very stealthy-looking antenna compared to a Yagi or a V Quad.
We also tested the rejection and I turned the antenna around to see how much the signal dropped off and his signal went from a S5-S7 down to a S2.
Quite impressive for a two element antenna.
The advertised forward gain for this antenna is 3.3 dBi and the front to back rejection is listed as 30dB.