TR-696F SSB AM/SSB Base Station CB radio, FCC Type Aproved.
 At last – a Citizens Band base station with all the features that I wanted!

– YES – LEGAL!! CB 40 CH# SSB

TEXAS RANGER 696F SSB CB 40CH BASE
My 696F is in excellent, unmodified condition, no scratches or dings. In original box. $300 
I bought this Texas Ranger 696FSSB from Harold because it offered all I wanted, Mainly NOT Modified, Excellent Condition, and fully FCC Type Approved and Legal standard 40CH# SSB CB. Because I live in Australia, this means that it will be 100% legal by the Australian authorities. (ACMA)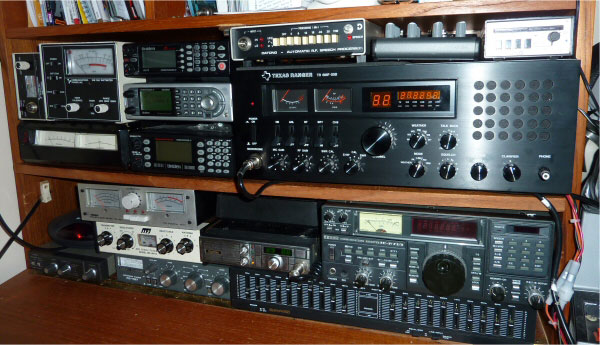 As I intend to obtain a Ham license in the future, I wanted a radio that is not going to be illegal to operate as a CB'er until then.
Thanks to Harold's good packing it arrived safely from the USA in Melbourne with no issues. This was in less than 2 weeks, which was unexpected.
I knew it would be 110VAC but I had an external insulated stand alone transformer to convert it from 240VAC to 110VAC US Standard.
But the conversion was inconvenient and bulky/messy so I decided to remove the small internal 110VAC to 14VAC transformer and replace it with a double the size 240VAC one that will supply a lot more current at 14VAC so I can supply the full SSB power to the antenna.
I just plug it into 240VAC now which is way more convenient and efficient in operation.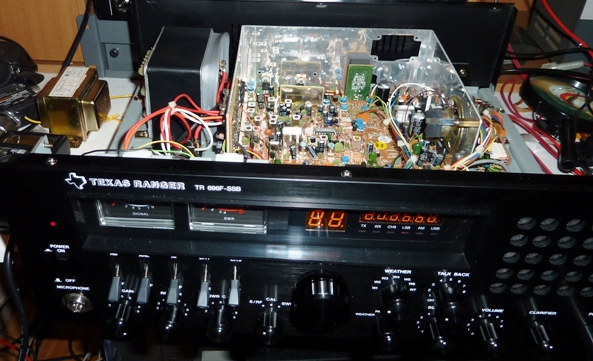 Had to do a few simple tuning tricks using the Service Manual and my Frequency Counter and Oscilloscope, but  expected to have to do anyway. It is performing to perfection now.
Have fitted an extra heat sink inside right above the TX transistors from a computer CPU Cooler and fitted the CPU Cooler Fan to the back panel to extract the hot air now it is kicking up to max on SSB. Both were fitted without needing to make holes or modify the unit in any way which is what I strived for.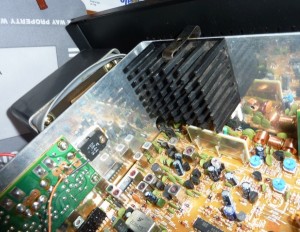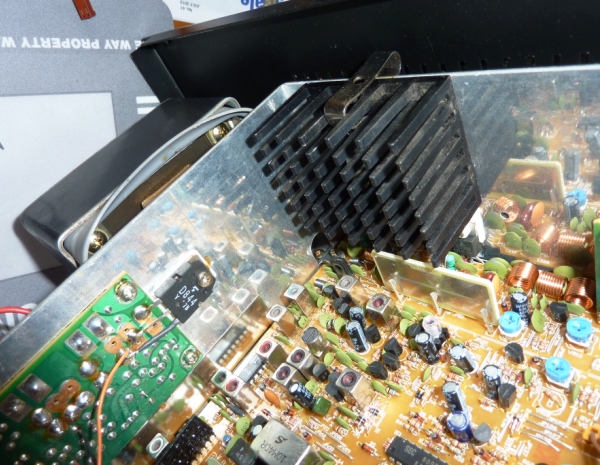 The External Fan is powered through the PA Socket on the back Panel after disconnecting the PA system (WHO ever uses this!??) and internally wired via the NB Switch.
All I do is flip up the NB s/w to turn on the fan if I am talking too much!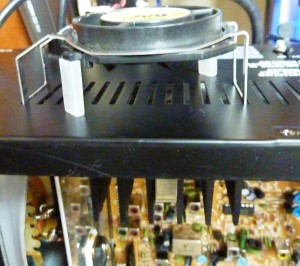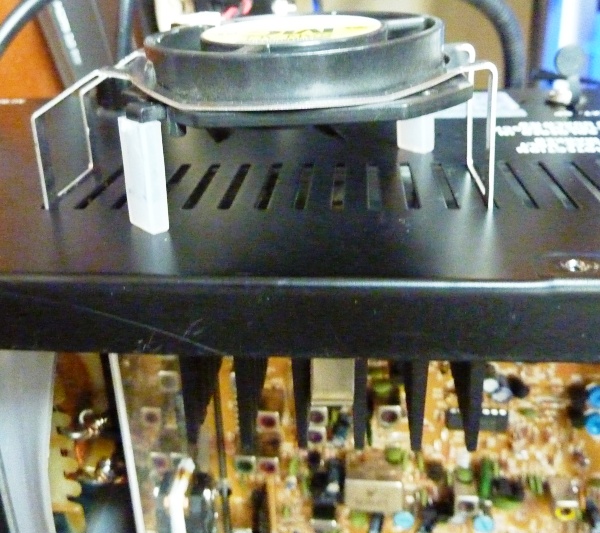 The radio was supplied with the standard hand mic which works Ok, but as I am sitting here in front of my computer most of the time it is inconvenient.
Tried a Behringher audio rack plus a studio mic for a while but getting RF back in with a foot switch on a long lead.
I have an desk Kenwood MC-85 Microphone on it that works extremely well and getting the best reports I have ever had for two years from my station.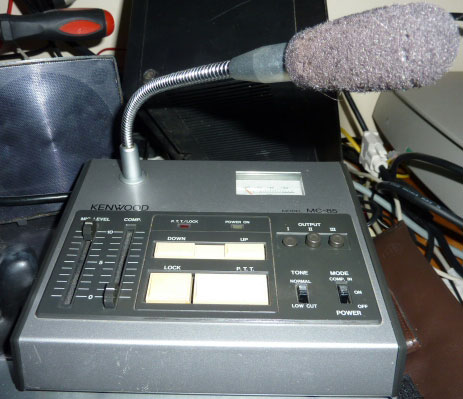 Talking  to a guy about 80 miles away and he says its the best he has ever heard me.
The Texas Ranger 969 + MC-85 is a great combination except for the fact that the T/R switching in the MC-85 forced me to wire it in a configuration that feeds back if I go to the NOAA WX setting even on receive.
As Australia has no NOAA WX transmitters and some of the frequencies are allocated to other commercial users, I have removed the internal antenna for the WX PCB from the main SO239 27Mhz Socket. It is normaly just using the 27Mhz antenna to recieve on in an ineficient way so I have removed the rear panel Audio Record socket and replaced it with a dedicated WX antenna input. This is connected to my UFO Scanner Antenna that has very good ears for a better chance to hear other stations on the NOAA frequencies.
Have not given up on the Behringer Audio Rack idea yet and may run the MC-85 thru it. The foot switch I am not so keen on as it is an old sewing machine one that clunks when released. Always trying to sound better…:D
The Texas Ranger TR-696FSSB is my legal CB Base radio, incorporating the "new circuit design" manufacturing by Ranger Communications, Inc.

Built with ruggedness, durability and reliability in mind, this model will answer your needs for a high performance radio with both AM and SSB operation .   The TR-696FSSB also offers the ability to select from 7 NOAA Weather Channels insuring that you will have the coverage for your local area. Also included is a NOAA Emergency Alert Tone to warn of impending weather problems.

The TR-696FSSB is attractively designed incorporating the latest in desired appearance styling.  Utilizing the military style design with the rack mount front panel, you can mount it in a console for a professional looking desk arrangement, rack mount it military style, or even just setting on the desk offers a distinctive appearance.

As a full featured radio, the TR-696FSSB offers the user the most advanced features available in a CB base station radio.   The Advanced Noise Filter circuit de-emphasizes the audio high frequency response in order to increase the signal-to-noise ratio of weak signals.   This provides you with the ability to receive those marginal signals with much more clarity and understandability.   Combined with the Noise Blanker and the Automatic Noise Limiter, this has to be the quietest base station ever manufactured.
[EDITOR AX05: Unfortunately this is not my experience with this TR-696! The person that wrote this probably does not know of the CPI B2000 CB Base Station anti noise capabilities which far exceed the TR-696. ]
The talkback control allows you to monitor your own voice, adjust the volume, and even try out those different microphones to find the one that you like the best.   Two separate large meters provides easy reading of the signal strength on the received signal, and monitor the transmitter output power & SWR of the antenna.   It even includes a recording output jack on the back to connect a tape recorder.   Now you can tape record your voice modulation, or contact with that favorite station.

The TR-696FSSB is loaded with outstanding features for a base station, and will satisify the most hardcore user.
| | |
| --- | --- |
| — AM, USB, LSB Mode | — Switch for Instant Access to Channel 9 |
| — Built-in 6 Digit Frequency Counter | — Large Channel Selector Knob |
| — 2 Digit Channel Indicator | — Dimmer Switch |
| — PA/CB Switch | — 2 Color Xmit/Rcv Indicator |
| — Advanced Noise Filter Circuit Switch | — Automatic Noise Limiter Switch |
| — Large Iluminated SWR Meter | — Large Illuminated S/RF Meter |
| — Noise Blanker Switch | — Seperate Adjustable Volume/Squelch Control |
| — External PA Jack | — External Speaker Jack |
| — RF Gain/SWR/Cal Switch | — RF Gain Control |
| — Seperate SWR Cal Control | — Clarifier Control |
| — Mic Gain Control | — Dynamic Mike Included |
| — Adjustable Talk Back Control | — Front Panel Headphone Jack |
| — Built in Voltage Overload Protection | — 7 Position Weather Switch |
| — 2 Year Warranty |   |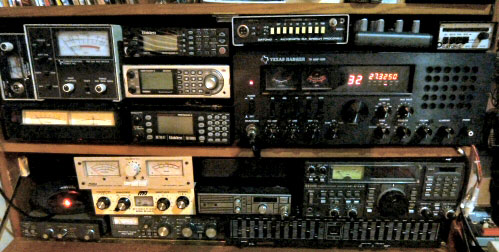 TR-696F SSB Specifications
 General

TR-696 F SSB

 Frequency Range

26.965 – 27.405 MHz

 Emission

AM – USB – LSB

 Channels

40 CB

 Frequency Control

Phase-Locked-Loop Synthesizer

 Frequency Stability

0.001%

 Operating Temperature Range

-30º C to + 50º C

 Input Voltage

110 Vac

 Antenna Impedance

50 W

 Speaker Impedance

8 W

 Size (W x D x H)

19″ x 12″ x 6-1/4″

 Weight

25 lb

 Shipping Weight

28 lb

 Transmitter
 RF Power Output

4 Watts AM
12 Watts PEP U/L SB

 Carrier Emission

Better than -55 db

 Spurious Emission

Better than -55 db

 Audio Distortion

10%

 Frequency Response

300 to 2500 Hz

 Microphone

Dynamic

 Receiver
 Sensitivity for 10 dB SINAD

0.5 µV AM
0.25 µV SSB

 Squelch Sensitivity

Adjustable (threshold less than 0.5 µV )

 Image Rejection

-65 dB

 Audio Power Output

2 Watts @ 10% Distortion

 AGC Figure of Merit

100 mV for 10 dB Change in Audio Output

 Audio Response

300 to 2500 Hz

 Clarifier Range

1.5 KHz ± 0.5 Hz

 Weather
 Frequency Range

162.400 to 162.550 MHz
0.25 µV U/L SB

 Modulation

FM ± 5 KHz Deviation

 Sensitivity

Less then 1 µV for 12 db SINAD

 WX Emergency Warning

Phase Lock Loop, 1050 Hz

 Audio Output Power

4 Watts

 Type

Single Conversion Superhet, 455 KHz IF