NeoPad Android 2.2 Touchscreen Tablet – 10″ Colour Screen, 2x Touch Gesture Recognition, Micro SD Ex – AWESOME @ $89 as NEW!
---
Bought one of these second-hand recently from Cash Converters as the price was only $89!
It seemed in excellent condition in the original box with all accessories and Manual.
I had been looking on the web for a TouchPad for some time but could not justify the 200-400 dollars it looked like you needed to spend to get all the features this NeoPad 1050 has.
Things like Games and a Camera were lowest on the list so as not important to me as decent email and web operation on a larger screen with 3g and/or WiFi.
You have to be careful buying from Cash Converters, having bought a lot of Radios from them, but sometimes you can crack an excellent bargain. And this was one of those times!
Had been returned the day earlier from a previous buyer, so completely checked it out going thru everything before I left the store.
I suspect the previous buyer was not technically  illiterate as the return was because it "did not work on the internet!"
I had read through the manual included where it explained that it did with certain provisos on certain common 3g USB sticks so I figured it should not be too much problem to get it going.
I had my wifes USB 3 3g stick (HUAWEI E160G CD57TCPU) working on the net in 5 minutes!
The wifi took a bit longer until I took the SIM from my Telstra 3g Modem and put it in my pocket Telstra 3g to WiFi box.
The NeoPad 1050 WiFi was going thru the 3g pocket box onto the net almost immediately after I set it up,  so I guess it helps if you have some clue about googling on the net to figure these things out.
Found it a bit limiting in the fact it has no mouse and the screen keyboard is small -obviously its a ten inch screen-
BUT a USB 4 Port HUB soon solved all those issues.
I now have my spare USB full size Keyboard and thumbwheel Mouse connected as well as a USB 4gb Mem Key and a 1TB backup USB HDD when on my desk at home.
This is an amazing device and all the knockers on the net are fools.
This NeoPad 1050 TouchPad sells for around $150 new on the net in Australia and I am happy that I paid $89 for it on a chance it would be OK.
PRO's
10″ 1050 Screen – 32GB Mini TF
3G + WiFi + USB Full & Mini
Stereo 3mm & Microphone
Android Upgradeable
CONS
Aaaahhh….
Bat life 3/4hrs
No Case Included
Wont make coffee!
THE ONLINE SALES SPIEL:
NeoPad Android 2.2 Touchscreen Tablet – 10″ Colour Screen, 2x Touch Gesture Recognition, Micro SD Ex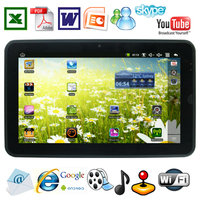 Do you want the power and flexibility of an iPad at a fraction of the price?
Why wait, with the NeoPAD 1050 you can have this and more! This is no common device, the NeoPAD boasts a super fast processor compared to other devices in its category, and coupled with a high sensitivity Wi-Fi module you can expect fast, enjoyable computing anywhere!
The NeoPAD 1050 has been customised with the most-used programs pre-installed for you. Access your social media with YouTube, Twitter, Facebook, and MSN. Communicate using Email and Skype. Use all your multimedia to watch your favourite videos, view your photos, listen to your favourite music, read eBooks and much more.
Be productive or add games, using the 1000s of applications available for Android, you can buy or download free apps from App Market. There are currently over 100,000 applications available.
But there's more, the NeoPAD 1050 uses the latest 10″, high sensitivity, 2-touch resistive screen, allowing you to pinch and zoom photos, documents, web sites and more. Furthermore, with full Flash compatibility, you'll be able to surf and view any site.
With all these features as well as built-in speaker and microphone, built-in camera, gesture recognition (swipe sensitive), 4 x axis G-sensor for auto rotation and high performance Wi-Fi, the NeoPAD touch tablet has all the features you need for an unforgettable computing experience.
Stock is limited and at this incredible price, the 10″ NeoPad won't last long, so grab one for yourself or a friend as the perfect gift.
Features
NeoPAD 1050 10″ Touch Screen Tablet
Built-in Wi-Fi
G-Sensor for auto or manual screen rotation
Screen Control 2: Sensitive 2 x touch response with gesture recognition (Zoom in/out, Swipe/Wipe)
0.3M Pixel Camera
1080P HD video capable
Latest Android 2.2 operating system
Supports Flash 10.1
Access to thousands applications via App Market
USB keyboard / mouse support
External 3G dongle compatible
TF/MS Card Slot for additional storage
Multiple languages support
Built-in camera, dual speaker and microphone
Specifications
Processor: VIA8650 800Mhz ARM926EJS
OS: Android 2.2 Froyo
Display: 25.4cm (10″) WXGA Colour LCD Touch Screen (1024 x 600), 16 million colours
Aspect Radio: 16:9
System RAM: DDR2 256Mbyte – Up to 1333Mhz speed
Storage: 4GB Nand-Flash, expandable to 32GB via TF Memory Card (sold separately)
Wireless Access: Built-in WiFi module (Protocol 802.11b/g/n)
USB: 1 x OTG (On the Go) 2.0 High Speed Port / 1 x Mini USB
Games: Support 3D acceleration (openGL)
Screen Control: G-Sensor for auto portrait / landscape rotation
Screen Type: 2x Touch resistive
Screen Control 2: Sensitive 2 x touch response with gesture recognition (Zoom in/out, Swipe/Wipe)
Camera: 0.3MP
GPS: No
Bluetooth: No
Music Decoder: MP3, WMA, OGG, FLAC, WAV, ACC, APE
Video Decoder: AVI, WMV, RM, RMVB, 3GP, MKV, MP4, ASF, VOB, MPG, TS, TP, DVIX, MOV Supports 720P to 1080P HD-Definition
Photo: JPEG, BMP, GIF, PNG
Ebook: Supports TXT, EPUB, RTF, DOC, PPT, PDF Format files
Compatibility: Windows, Mac and Linux
Software/Applications

Google Android 2.2 support Flash 10.1
Documents to Go (supports word, excel, powerpoint, email)
Contacts
Camera
Calendar
Calculator
G-mail
YouTube
Music Player
Video Player
MSN, Yahoo, Skype online chat
iReader
Twitter, Facebook
Web Brower
Angry Birds
App Market
3G/ADSL Setting

Compatible 3G Dongles

Pre-Pay: Telstra / Virgin / Dodo / Vodafone / Optus / 3 Net Access / 3 Services
Data Bundle: Telstra
Post Pay: Telstra / Virgin / Vodafone / Optus

Battery: 2100 mAH Li-Polymer Rechargeable Battery
Battery Working Time: Up to 2-hours of surfing the web using data network / 1-hours for video playing with earphone / 2-hours for audio playing
Colour: Black
Dimensions: (W) 26.6cm x (D) 1.1cm x (H) 16.5cm
Weight: 720g
Model: 1050
Brand: NeoPad
Package Contents
NeoPAD 1050 10″ Touch Screen Tablet
AC Charger
Stylus
User Guide
WONDERMEDIA PRIZM WM8650
Combining a highly energy-efficient ARM 9 core running at 600 MHz with integrated multimedia instruction and hardware accelerator for video/audio decode acceleration, the PRIZM WM8650 broadens WonderMedia's offerings in the fast-growing entry-level Android media tablet and Windows CE SmartBook markets. The WM8650 offers a high-performance and feature rich design delivering unrivalled experiences for eBooks on your tablet.
The WonderMedia PRIZM WM8650 platform is optimized for multimedia applications with an optional MMX-enhanced DSP, the latest hardware video decoding, encoding and processing hardware offering a rich visual and audio experience. The platform's graphics processing capabilities allow for high display resolutions which make it ideal to leverage the vast visual entertainment resources available on the Internet.
Boasting built-in Fast Ethernet MAC, interface with Wi-Fi, 3+G and Bluetooth, the WonderMedia PRIZM platform offers the broad range of connectivity options required of today's Internet and Client devices.
Key Features
600Mhz ARM926EJ-S processor
WonderMedia's proprietary and high performance DSP processor
720p video decoding engine
Built-in 2D graphic engine supports Alpha-Bitblt and ROP3 operations
DDR2/DDR3 DRAM interface
DVO Interface supporting up to 1200×800 @ 60Hz
Flexible networking and peripheral interface
Advanced power management
Block Diagram
All WonderMedia 'Smart' devices are DLNA-compliant and compatible with Windows 7, ensuring customers can confidently build a wide range of stylish, full-featured Networked Media Devices guaranteed to provide a reliable and trouble-free home entertainment experience.
NEOPAD 1050 SYSTEM UPGRADE OPTIONS
WM8650 (WonderMedia) 5″ / 7″ / 8″ / 9.7″ (10″) Tablet
Use the Universal Uberoid WM8650:
http://www.techknow.t0xic.nl/forum/index.php?board=9.0
This ROM is compatible with tablets of these specs:
Model: WonderMedia WM8650
Android: Froyo (2.2)
Kernel: 2.6.32.9-default
Build: generic-eng 2.2 Froyo
Cpu Info:
Name: ARP926EJ-E rev 5 (v5l)
Freq: unknown
Cores: 1
Architecture: 5TEJ
BogoMIPS: 797Mhz
Hardware: WMT
General specs:
Processor: VIA8650
Frequency: 800MHz
Memory: RAM 256M
Flash Memory: 2GB (* on 4GB: System: 2.23 GB, Local: 1.77 GB)
Speaker: 8 / 2W
Microphone: Internal
Reset Button
Power button voice + _
Display Resolution: 800*480
Screen size: 7 inch / 8 inch / 5 inch / 9.7 inch / 10 inch
TFT: Resistant touch screen
Touch screen: Supports resistive touch two points (*if hardware is compatible)
Camera: 1.3MP
GPS: No
Bluetooth: No
3G: external 3G function
Video: Support 1080P Movie (mpeg…)
G-Sensor: 4 way G-sensor * (actually a WMT 3-axis accelerometer!?!?)
Network: WiFi IEEE 802.11b/g
Audio port: 3.5mm Headset
USB: 1*MINI 5PIN USB PORT 9V 1.5A DC-IN
SD: TF up to 16GB
Operating System: Android 2.2
Flash: v10.1 (evaluation version only, Adobe dropped the arm5 support for flash, this is the only version there is)
Adapter: DC 9V 2A