2nd. World Day of ROS Mode –
The Digital Day Date: Saturday, 03/03/2013 
Time (UTC): 06:00 to 23:00 
QRG: 11m CB Channel 25 
USB 
Frequency: 27.245MHz USB
General Rules for the 03/03/2013 World Day of ROS Mode
For a noise free 1 World Day of ROS fashion, please observe the following rules we have established.
§ 1 For your own benefit and in the interest of all participants, keep transmissions as short as possible.
§ 2 Please use internationall 11m Call Signs and valid locators
§ 3 Working on ROS contests or general ROS events, please work with beacon switched off whenever possible.
§ 4 If beacon is switched on, only activate the e-mail then please report.
§ 5 Please work with a symbol rate of 8 transmission and receiving symbol rate of 16-8-4
§ 6 Please use Shortcuts in your transmission whenever possible.
§ 7 Please finish your QSO with the Word "End".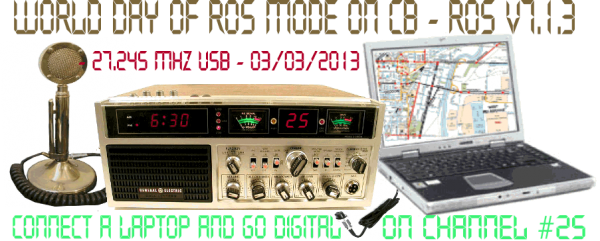 For more detailed information please have a look at:
General Information in German=> http://www.9cb.de/ros.html
ROS modem Site => http://rosmodem.wordpress.com 11m
Prefix List => http://www.livecbradio.com/ssb-cb- radio-country list.htm
HAM Shortcuts => http://eric.tiggemann.de/funk-abk.htm
PSK Reporter => http://pskreporter.info
Locator Finder => http://f6fvy.free.fr/qthLocator/fullScreen.php
The first initiator wish all participants a successful World Day of ROS fashion and a lot of fun on 11 meters.
GO TO G0HDI's (BRIAN WALKER) ROS MODE PAGE
GO TO G0HDI's ROS MODE PAGE      HERE
ROS is a week signal mode written by Jose Alberto Ros (EA5HVK) using multiple tones, similar to that of Olivier allowing both beacon and qso modes.
The latest version results in the following screen which is obviously populated earlier.
Go to Brian Walkers comprehensive ROS Operation Page for more.